What is a Content Management System?
A content management system, or CMS, is a web application (software) engineered to enable those with no programming skill to administrate a website and manage its content through a browser-based interface.
What is the "Content" to manage?
The content is the collection of digital information or assets. Information can be text, composed into pages, articles or posts; it can be text stored in other document formats like Word or PDF files; it can include other assets such as images, graphics, videos, audio recordings, database records such as customers' information, inventory lists etc.
What does the "Management" mean?
A CMS is designed for non-technical users to utilize authoring tools to add, edit and format a website's content. It allows for collaboration of multiple users to manage separate subject categories an its associated content. In this way, multiple authors can contribute, control, edit and participate in a website to spread out the responsibility. The software system also provides the administration tools to manage the website's global features.
A set of templates control the dynamic presentation of the content to website visitors. This includes the graphic page layout, fonts, colors, navigation locations and menus and so on.
What is the "System?"
The system is comprised of a set of tools or individual programs that control various aspects of the website's presentation and administration.
A CMS requires an initial installation and general setup of the included feature set. A custom-designed template can brand your "generic" install and make its visual presentation style unique. A systems administrator and/or a web developer can install additional features, plug-ins or modules, to expand the base functionality. Another function of a Sys Admin is to maintain and upgrade the software for updates, revisions and bug-fixes to keep it current. But typically, it is a website authoring and maintenance tool for non-technical individuals.
The system uses a database to store the content information and digital assets that might be needed for the dynamic presentation depending upon the page a visitor wants to view.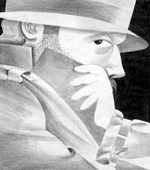 CMS systems not only enables users to do content editing, but they also do the "heavy-lifting" of "under the hood" work of:
Creating and displaying the navigation lists;
Providing the WYSIWYG editing tools;
Creating an index of the content;
Storing the content in the database;
Administering users access permissions securely;
and a whole lot more.
Illustrations on this page courtesy of client Wally Littman Illustrator – Humor and Gag Cartoons and Illustrations